Cookware That Gives A New Life
Posted by Swiss Diamond on 31st Aug 2022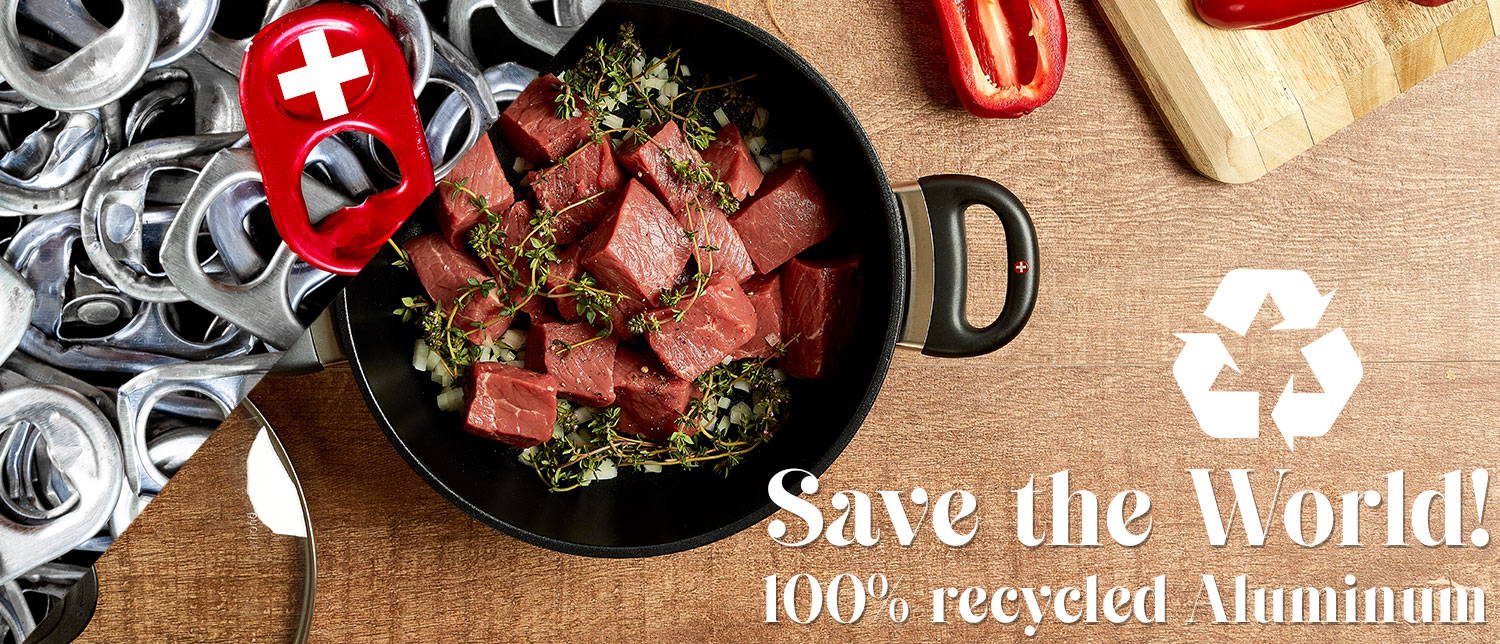 We use 100% recycled aluminum!
I'm sure you know that Swiss Diamond is world-renowned for its nonstick cooking surface and attention to quality, but did you know that every time you buy a piece of cookware from our XD and HD lines, you're doing your part to help save the environment? Keep reading to learn about how Swiss Diamond strives to keep the world a better place.
To answer that question, we may need to ask ourselves yet another question, why aluminum in the first place?
Swiss Diamond® cookware is made of pressure-cast aluminum for uniform heat distribution with no hot spots. It is guaranteed not to warp. Each piece has a perfectly flat base for use on any ceramic, gas, or electric cooktop. (Induction series also available.) The cast aluminum creates the perfect base for our revilutionary nonstick coating with real diamond particles. The aluminum, like the coating are built to stand the test of time.
Now to answer the original question; why recycled aluminum?
The short answer is: Why not? Using second-life (or older) aluminum simply makes sense. We take aluminum that's no longer wanted or needed and melt it on-site. We then cast into suitable forms. This is the first and most crucial advantage of Swiss diamond products: other cookware is often spun or stamped into shape, allowing the metal to warp under high heat. The pressure-cast aluminum process used for Swiss Diamond cookware prevents warping for the lifetime of the product – even if it is taken directly off the stove and placed under cold running water. Cast aluminum also distributes heat evenly, preventing hot spots.
So we ask you, why would we use new aluminum when we can recycle and make the world a better place?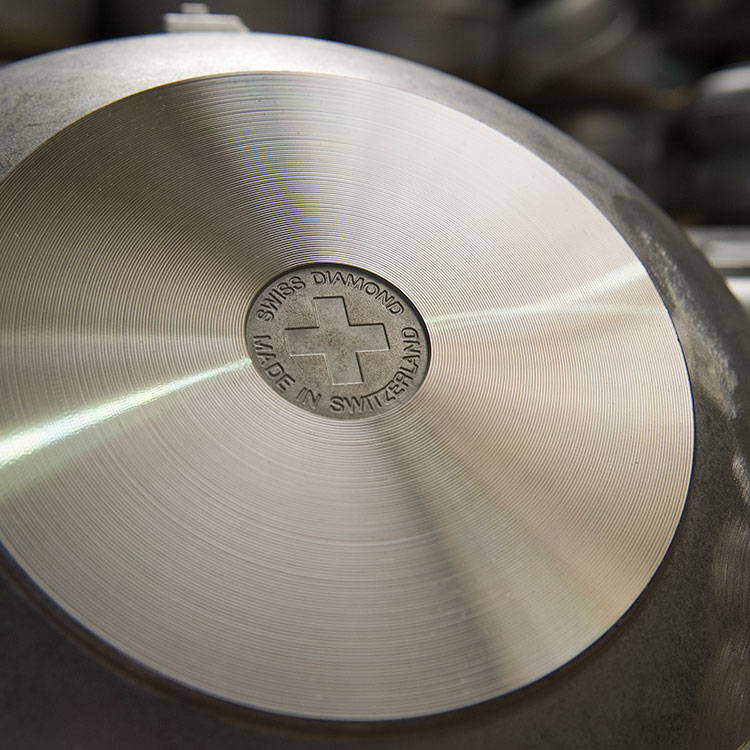 ---

Aluminum cans and other scrap are usually collected and sent to a recycling center, where they are cleaned, sorted, and crushed. Once the metal has been stripped of impurities and the coatings have been removed, they go to an aluminum manufacturing plant, where they are shredded, remelted and solidified again.
---
Does Swiss Diamond do anything else to help the planet?
Swiss Diamond is committed to green manufacturing practices. The factory is powered by 100% hydroelectric power from the Swiss Alps, and the production process is Non-Toxic from start to finish. An undrinkable water source is used to supply the cooling system and coating lines, and water used in the coating lines is recycled.
All products are made with recyclable aluminum; irregular items and scrap leftovers from the factory are recycled within the production process. Furnaces are powered by natural gas, and the factory runs 24 hours a day, 7 days a week to ensure that furnaces are fully utilized.
The production of our nonstick coating is also environmentally friendly. We do not use a pre-fabricated base. Instead, we manufacture the coating material in-house, importing each component to our Swiss factory and mixing it ourselves. This reduces transportation emissions, packaging and associated environmental impact needed to supply us with the finished goods. Coating materials leftovers are disposed in a special 3rd party facility to separate the components and minimize environmental impact.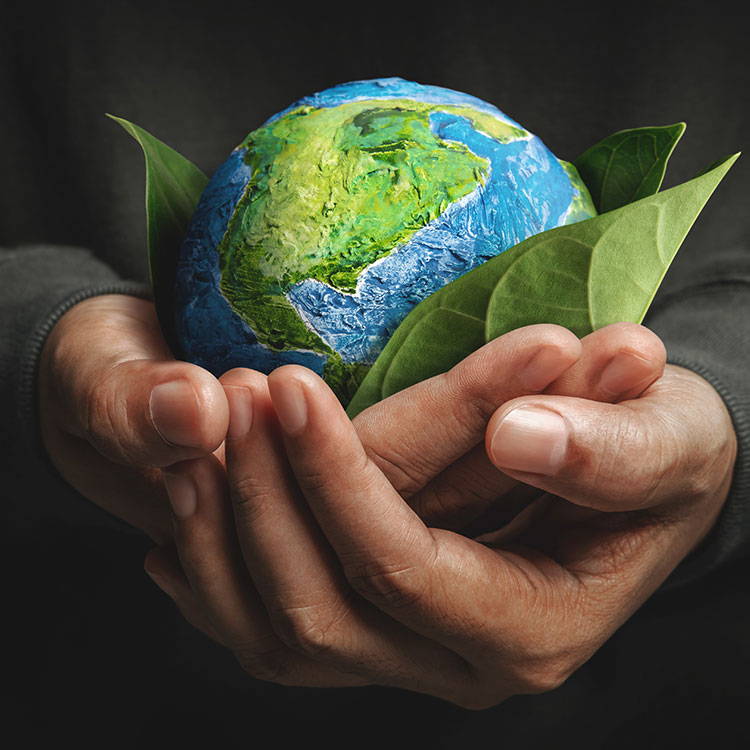 Swiss Diamond customers love the whole experience.
We talk a lot about the quality of our pans. But don't take our word for it. We get messages like this every day. We love every time we get an email, phone call, social media message, or even good ole post mail. Read below what our customers have to say about Swiss Diamond cookware, and our expert team of customer service!

I was in need of a quality, smaller frying pan & this just fits the bill! I love the solid surface (I know it will not warp!) It conducts heat so well, that a medium to low stove setting is all that is needed. The non-stick surface is pure magic! As one who does not cook with butter, it has really proven to be the perfect pan for me. Thank youRead more about review stating Absolutely perfect! Thanks for making such a great product! Knowing that the production of the cookware is eco-friendly just makes me a life-long customer.

— Dee
I Just wanted to share how much I am amazed at the quality and ease of use your skillets are....well one at least, which is all I have for NOW! I use mine at least 2-3 times a day. My husband is on a special diet that requires a lot of cooking. I find myself washing the skillet so I can use it again in some form of meal preparation. Thank you for creating a product the consumer can have confidence in! How VERY refreshing.".
— Claudia